Adolph Rosenblatt
Portfolio
Click the images below to see more thumbnails and larger images.
---
Trees
Drawing-paintings, were on display at Beans & Barley beginning March 2005.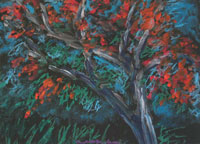 ---
The Many Faces of Sharon
I don't like his politics, but Ariel Sharon's face is in constant flux...

---
Restaurants

Restaurants are places where people gather and feel satisfied. I like to sense the contented crowd, and once people are comfortable, it's easy for me to work. I'm always trying to communicate an atmosphere, and restaurants project atmosphere.

Oriental Pharmacy Lunch Counter

Gay Garden

Benjamin's Deli
---
My Balcony
A balcony is where people are enjoying each other before the lights go out. The little bit of darkness you get leaves you anchored to the people you're with. So I tried to pick everybody I liked for this sculpture, relatives, friends, and acquaintances. I think I communicate some of my experiences of others in the balcony.

---
Miami Beach
---
Pools, Sauna, and Elders
Pools and saunas are part of our relationship with water and how we experience water. After all, we are 98% water.
---
We Are All Making Art

Making art fascinates all children, both doing it themselves and seeing adults do it...

In Milwaukee

In Neve Shalom
---
Newspapers

Something happened to me with Gorbachev. He made me feel like the world could change, that all of a sudden mankind might have a chance. And I was excited about dealing with current events.

The New York Times

Election 2000
---
Portraits of Family Members

---
People in their Environments

If you are on the porch or on a step, sitting or standing, wherever you are, you are in an environment. These pieces deal with a person's relationship to where he is.

People

Sandburg Hall Students

Leon and the Sunflowers
---
Bleachers
Fans at Milwaukee Brewer's games at County Stadium

---
Neighborhoods

Very few sculptors deal with landscape space. When I sculpt neighborhoods, they become landscapes, filled with the life of the people who live there.

Riverwest Houses

Imperial Motors
---
Treescapes and Landscapes
No matter how beautiful the world is, simple trees are more beautiful than everything else...

---
Cows
Cows are the most innocent among us. I look at a calf and I feel like I'm looking at the beginning of ourselves. I paint my cows different colors to reflect the sky. Their spots become sky spots.
---
Drawings

Children's birth announcements, coming soon.
---
The Platforms: 22 Drawings of America Selecting a President.
1960
---