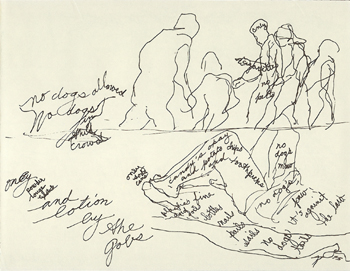 45
No dogs allowed
No dogs in this crowd
Only cigarettes
no pets
Only powder
rouge
lipstick
and lotion by the gobs
only soda cans
candy's okay and potato chips and toothpicks
no dog's maw
no dog's paw
it's against the law.
plastics fine and foils
bottles
nails
pails
sails
No dogs' tails.
Copyright © 1991 by Suzanne Rosenblatt, all rights reserved.