Ostropol Map
Click the images below to see an enlarged image.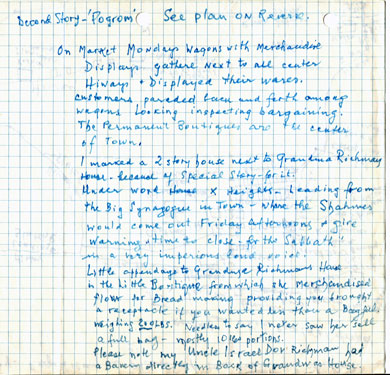 Second Story - 'Pogrom' See plan on Reverse [below]
On market Mondays wagons with merchandise displays gathered next to all center highways & displayed their wares. Customers paraded back and forth among wagons looking, inspecting, bargaining. The permanent boutiques are the center of town.
I marked a 2 story house next to Grandma Richman's house because of special story for it. Under word house x heights leading from the big synagogue in town - where the Shahmes would come out Friday afternoons & give warning "time to close - for the Sabbath" in a very imperious loud voice.
Little appendage to Grandma Richman's house is the little boutique from which she merchandised flour for bread making, providing you brought a receptacle if you wanted less than a bagful weighing 200 lbs. Needless to say I never saw her sell a full bag - mostly 10 lbs portions.
Please note my Uncle Israel Dov Richman had a bakery directly in back of Grandma's house.